Howleen Wolf is the little sister of Clawd, Clawdeen & Clawdia Wolf. She is also the Daughter of The werewolf.
This doll is part of the 13 Wishes: Basics doll line.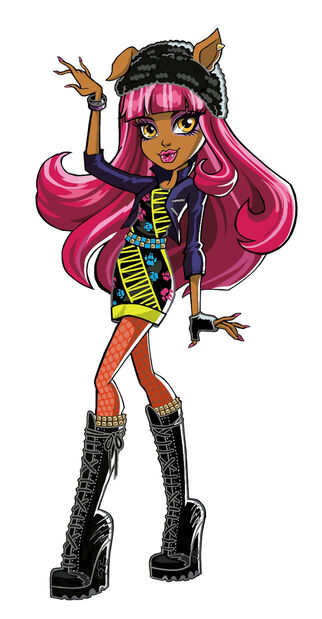 Description
Howleen has pink hair and a black beanie. Her outfit is a purple leather jacket, a black dress with paw prints in dfferent colours, and yellow peice at the bottom and a blue belt with gold studs on. She comes with pink leggings and black boots with studs on and a gold peice around the top.
Personality
Howleen is seen as insecure, nosy and a little bratty. She wants to stand out, and be seen and be popular like her Older sister Clawdeen. In 13 wishes, she finds Gigi and wishes to be Popular.
Notes
This doll comes with a pet, a stand, a diary and a brush!